RISEN CHRIST, SAINT ZEPHERIN'S CHURCH, COCHITUATE, MA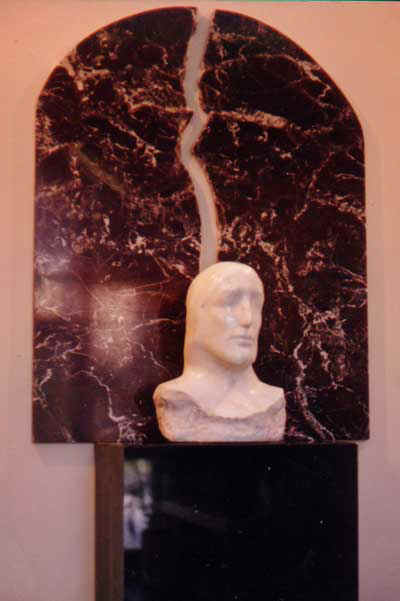 Risen Christ, Saint Zepherin's Church, Wayland, Massachusetts, Vermont marble, black granite, Rosso Levanto marble, life size, 1992.
A description of the Sculptural process and the parish here and below a letter from Pastor Father Paul Beraby, and a letter from a parishioner, and a history of Saint Zepherin.
To symbolized the Veil of the Temple splitting. I shaped the arch of the architecture on the perfect piece of very expensive Rosso Levanto Turkish Marble and then broke it two with several well placed blows.
The slightly larger than life size head of white marble was perfect for a Risen Christ. It had monumentality from the beginning in the tone. Reminiscent of Michelangelo's Neo-Platonist ideas about beauty inside waiting to be discovered. I carved a detailed Head of Moses, it had dignity and a presence. I saw a Risen Christ and used tools to erase all surface details with the result of an other worldly beauty and mystery. I have been told that the features are perfect. I think that people are allowed to see what they see because the details are not so specific and therefore limiting. Who wants to see a Photo Realistic Risen Christ? His body was glorified. The letter below by Laura Ferguson a parishioner bears this out. More about this below.
This is about how I was going to finish a marble Pieta begun in 2006 So many years later I made the Virgin Mary clear in our world but it took me 13 years later to get the Christ in a different place just as I was about to run out of marble in the high relief sculpture. I digress, but I was pleased to find reference to this direction that began with the Risen Christ. The Pieta now. I have to stop because I ran out of marble
.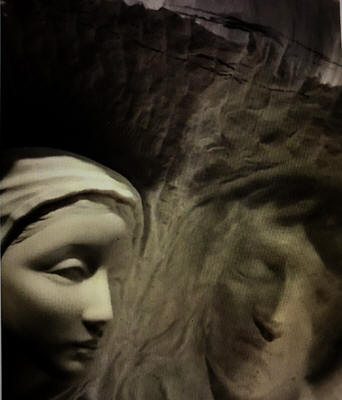 Pieta, Carrara Marble, life size, 2006 – 2018.
The Finish 
The Italian sculptor, Medardo Rosso, also in Paris with Rodin and Brancusi in 1906, made his most well known work, Ecce Puer. He put wax over plaster producing a special surface. Apparently he influenced Rodin toward an impressionism (small i) in sculpture.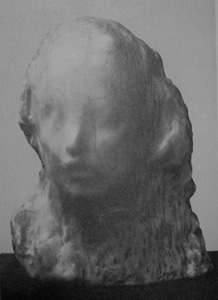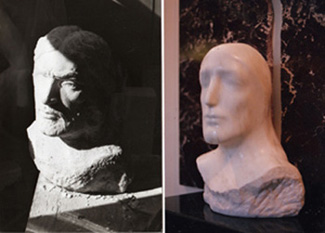 My Risen Christ , on the right, commissioned for Saint Zepherin's Church in Wayland, Massachusetts, has a  surface that was achieved by polishing the marble right over details to make flowing forms. These photographs show the before and after. It is surprising how many letters I have received saying how right his features are, even though they are not at all specific. Over the years I have evolved a technique of carving marble that is purely my own. I am free from trying to make marble look like cloth or any other material in a super realistic manner.  I  try to utilize the special reflective and refractive qualities of marble. The right finish for this new Pieta is still evolving.
It was an honor to do this in the church where I was an altar boy for the Latin Mass. There were painted statues and beautiful stained glass windows and Stations of the Cross that I can close my eyes and see now.
My mother and her friend Grace Courchine were the Saint Zepherin's Altar Society and on Saturday Mornings they would replace the altar cloths and vacuum the rugs as I ran around the pews and studied the art.
Maybe around 2005 an artist friend from Boston stopped by my house in Gloucester, Ma and stayed over on his way to deliver paintings to a gallery in Maine. He had been to Rome to study to become a priest. They said no, and he did not proffer an explanation.  He loved then liturgy of the church, the music, the art, he was a Harvard grad and spoke perfect Italian and played every musical instrument ever invented. We talked into the night about faith. Finally he said you are just a sentimental Irish Catholic. I said, …. …, My pastor was Otis F. Kelly a Harvard trained Psychiatrist who wrote a book called Marriage Morals and Medical Ethics, in the mid sixties, it is the Church's teaching about such to this day, and the basis for Saint Pope John Paul II's Theology of the Body based on Genesis. My mother was Fr. Kelly's best friend and she made apple pies for him. My faith as a boy was based on the fact that he and my parents and a few priests and nuns where the smartest people that I knew and they had the most joy.
My friend said, oh, O.F, Kelly, we studied him in Rome at North American College. I concluded that they did not allow him to become a priest because he did not believe all that stuff. Fr. Kelly was eighty and he said weekday morning Mass and fasted and would sometimes faint. I knew when it was coming and Edwin Marston and I were on our knees at the base of the altar and I would nod to Eddy and we would walk on our knees to the center to catch Father Kelly.
from Father Paul Beraby: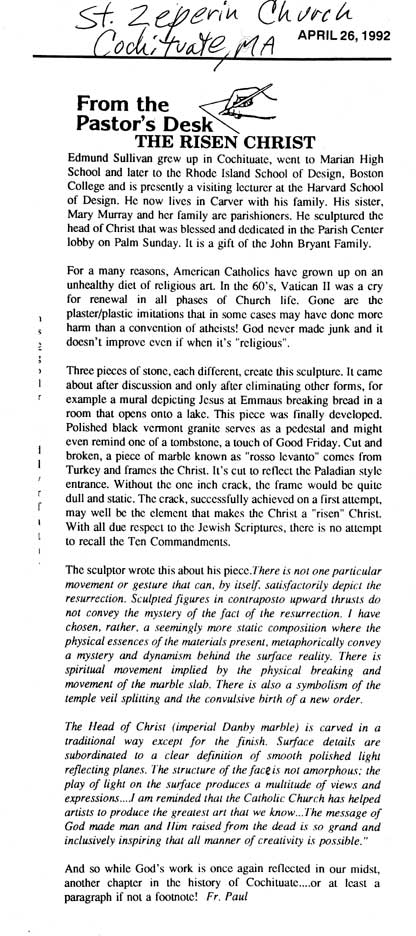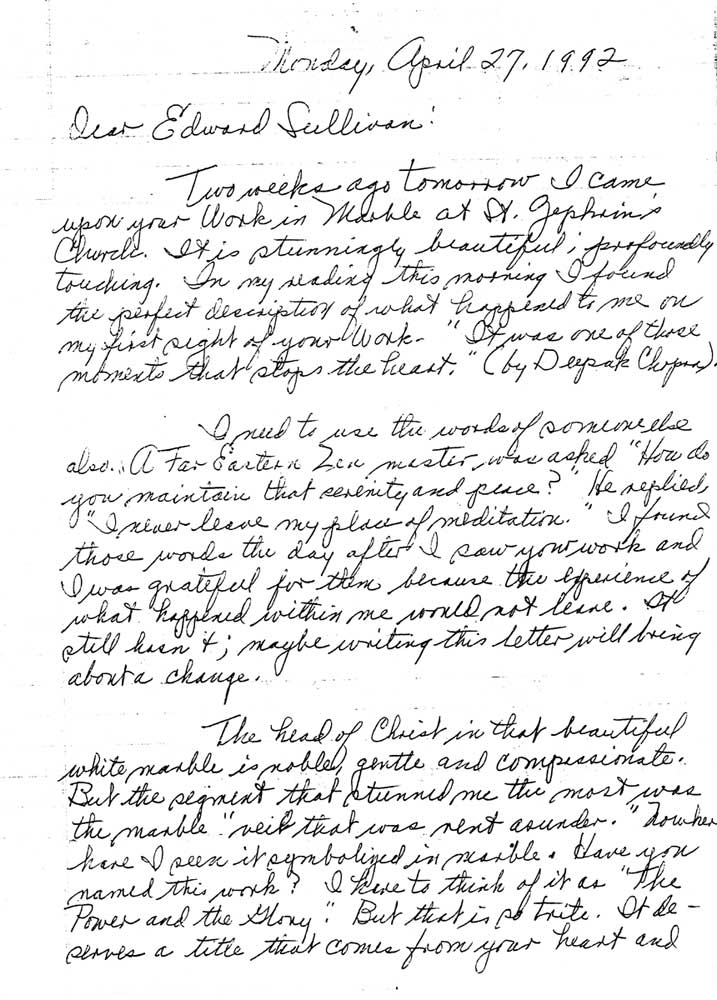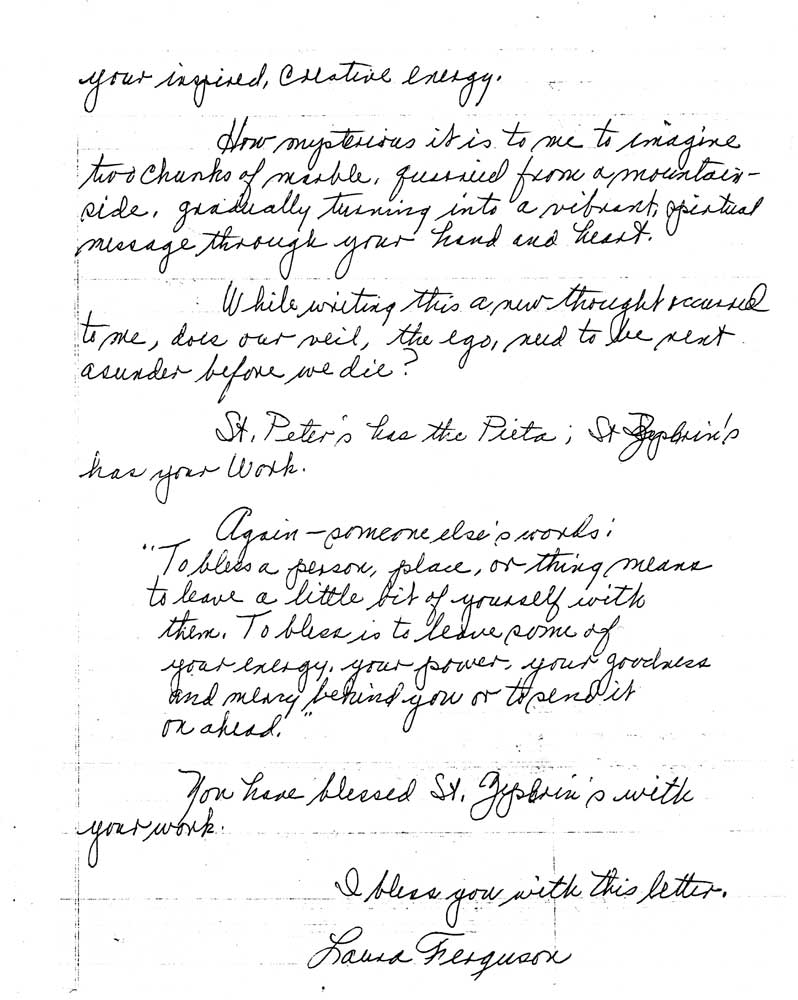 Laura Ferguson was a very old parishioner of the parish in 1992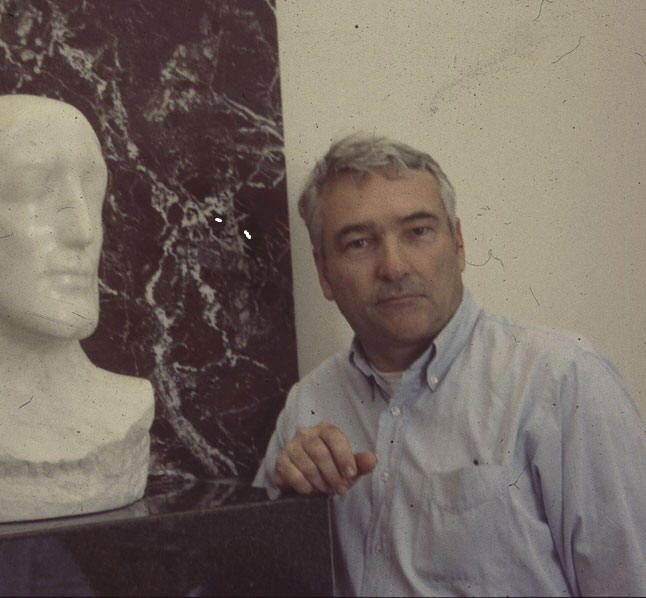 Risen Christ, Imperial Danby Vermont Marble, life size,
SCULPTOR AT SAINT ZEPHERIN'S CHURCH, COCHITUATE, MASSACHUSETTS
AND ABOUT THE MARTYRED SAINT
The sculpture is a Risen Christ part of a permanent Architectural element at Saint Zepherins Church.
Saint Zepherins Church is where I grew up. He was Pope Zephyrinus from 217 to 222 when he was martyred. He is buried in the Roman Catacomb of Saint Callistus in a room with Saint Cornelius Pope from 250 to 253. Cornelius only lasted three years. In an imaginary interview I had with Saint Peter about Martyrdom I was asking him about his expression being crucified upside down in the Caravaggio painting.
 http://www.corneliussullivan.com/my_interview_with_saint_peter4.html
 I included this –
He (St Peter)continued, "So to conclude about martyrdom. Do you know that all but two, of the fifty two of my immediate successors as Bishop of Rome are saints, most were martyrs?"
I was proud to say, "I know, someone gave me a piece of paper on the street in 2005 with a list of all the popes. Typed in at the bottom was the name of the new pope. I have kept that list. It is well worn, I will tell you how I used it. Some years ago I did tours of the Vatican Museums. There was another docent who was saying that the museums were all about propaganda and the Church reifying its power. I was not content to read the interpretations of historians of what the place was about. I hoped that I could know for myself the reality behind the grand collection and the buildings. The key was the paper that I had saved. The place is built over the grave of the fisherman, you, and on the blood of the martyrs. When I showed it to visitors they noticed the capital "M", for martyr, after the names of the first popes, thirty three of them, often in office for a short time. Pope Cornelius made it for three years before he was murdered. I continued, Caravaggio painted many martyrdoms."